Table of Contents Introduction
This page contains things I've done with my entry (a group of 30 people) at MIT. I live in E Entry in MacGregor at MIT, from 2000 to 2003.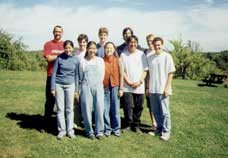 Here is my entry and me at our annual entry apple-picking trip at Nashoba Valley Orchard (I think).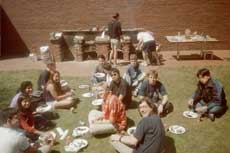 This is our annual senior picnic, where we recognize all the graduating seniors with a big barbeque and many good steaks. Yum. There's also chicken and vegetables and Better Than SexTM cake (I didn't name it).
More
For more info, photos, and other stuff, go to the official E Entry website at http://web.mit.edu/e-entry/www/.